Paint the Run 2019: Let's talk Mental Health
Meet Diane Nthurima, Founder – Paint The Run
Why Paint The Run?
I met one of my partners that I started Paint the Run with and said "let's do something different in the events industry." This was in 2016. We did our research and saw that we didn't have a Holi inspired run in Kenya. It took us a year to bring the concept to life.
We did our first event in April 2017, and we are now on our 3rd Edition this Saturday, 20th July at the Ngong Forest Sanctuary 😊.
Tell us a bit more about the themes
It is physical because you're doing a 5 km run and mental in the sense that we wanted people to come and have a good time and forget about their age, gender, and inner battles, inner struggles- it doesn't matter- we just want everyone to have a good time.
The first year we had three principal; "harmony, wellness and bliss". It was an election year and we wanted to encourage people to come together as Kenyans. It shouldn't matter what tribe or religion you're from. Last year we focused on mental well-being so we partnered with Chiromo Lane Medical Centre as our main sponsors. We also had mental health ambassadors who we now call PTR ambassadors and each one has struggles with mental health.
This year we changed the theme as part of rebranding; our overall basis is "physical and mental wellness", and under that we'll have themes tied to that. So, the theme this year is Paint Me Happy. For us it is about celebrating and cultivating a culture of happiness.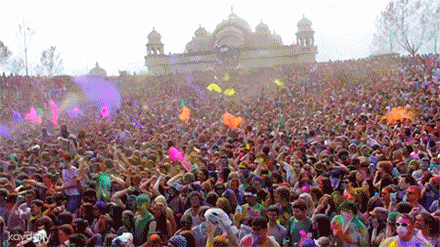 This came about after the UN Happiness Report which showed that Kenya was among the unhappiest countries in the world ☹. Last year we are ranked 124 out of 156 countries and this year was 121. It has gone up, which is good, but it is still low- why are we in the hundreds?
Because of this, Paint the Run is about coming and just being happy, forget your problems and everything. If you're having any problems, on that day you'll forget. Our overall principle is now Be Young, Be Happy, Be Free. For be young, of course it's the youth who'd love such an event, so we're looking at age 19-35 but we have had the young and older brackets come to our events. It's about being young at heart and having fun with holi. Being happy is about being content and be free is about forgetting all your problems.
Why is this dear to your heart?
When it comes to the physical part; I have played all the sports. I was athletic and I decided to get back to that. Physical fitness for me has been something that I have been focused on since I was a kid and always played sports. On the mental front, I have lost loved ones to mental health and I have loved ones who have struggled or struggle with mental health. For me it felt like it is about ending the stigma.
In the African culture we are told "don't talk about your problems!" and that is especially men. There are now things coming up and organizations stepping forward, Riverdale Medical Center, who've we've partnered with this year, who are coming out with counselors, therapists etc. And we are now hearing people being told to see a counselor, and don't keep your issues to yourself. I love that because we are standing up to the stigma and saying "these things are affecting us, and we need to talk about them."
I haven't been affected with mental health, but I have people around me who have. I can see what it can do. I have lost a lot of young people, especially in the last two years. For me I didn't want the norm where you have a conference to talk about mental health, I wanted to create a fun experience where we can come and have a good time and embrace yourself. We've also partnered with Trust Mental Health Club. In the future we're looking to have activations in universities where we talk about mental health but do it in a "Paint the Run" way.
What have you learned from the past event?
The holi powder creates a vibe and a sense of happiness. We had a test where we had holi the first year and not last year, and people still had as much fun. What we came to realize is that people are not coming for the performances but the holi powder in itself creates a vibe of happiness. Nothing else is needed – you tell people you're coming to play with colour powder and they come 😊.
The other learning is not keeping people waiting. When it comes to Kenyans we forget easily and keep going. So when it comes to events keep the hype going.
As always, thanks for stopping by!
Picha Booth
We are a photo booth business based in Nairobi. We are committed to making your event fun and memorable. We want you to be yourself; unleash the goofy in you, unleash the child in you. So we have a bunch of playful props for you to use to spice up your photo. Taking photos has never been easier - just grab a prop and strike a pose. You then get an instant photo for keeps. Tell a friend and hope to see you at your next event!
Picha Booth on KTN
Instagram
Provide API access token / Username